John Gerrard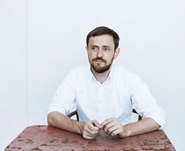 Lives and works in Dublin, Ireland and Vienna, Austria.
John Gerrard's work addresses questions of power and control in the contemporary world. Many of his works are in the form of 'virtual portraits' of structures in the landscape, industrial facilities that exemplify the way in which the contemporary world relies on hidden and increasingly automated networks of resource extraction, from oil to agriculture to livestock.
Born in Dublin in 1974, John Gerrard received a BFA from The Ruskin School of Drawing and Fine Art, Oxford University. He undertook postgraduate studies at The School of The Art Institute of Chicago and Trinity College, Dublin, and in 2002 was awarded a Pépinières Residency at Ars Electronica, Linz.
Recent group exhibitions include Equal, That Is, To the Real Itself, Marian Goodman Gallery, New York, in 2007. BEYOND at Kumu Art Museum, Tallinn, Estonia (2011) 20/20, Irish Museum of Modern Art, Ireland (2011), Invited EV+A, Limerick, Ireland, in collaboration with Peter Carroll. (2010), Infinitum at Palazzo Fortuny, Venice, (2009), Academia at L'Ecole de Beaux-Arts, Paris (2008), Existencias at the Museo de Arte Contemporáneo de Castilla y León (2007).
Recent solo presentations of Gerrard's work include: Infinite Freedom Exercise, Manchester International Festival, Manchester, UK (2011); John Gerrard, Ivory Press, Madrid, Spain (2011); John Gerrard, Perth Institute of Contemporary Art, Perth, Australia (2011); Universal, Void, Derry, N. Ireland (2011); John Gerrard, Thomas Dane Gallery, London, UK (2010); Cuban School, Simon Preston Gallery, New York (2010); Sow Farm : What You See is Where You're At / Scottish National Gallery of Modern Art, Edinburgh, Scotland (2010); Oil Stick Work, Art on the Underground, Canary Wharf Station, London, UK (2009 / 10); Directions : John Gerrard, Hirshhorn Museum + Sculpture Garden, Washington DC, USA (2009) and John Gerrard, Animated Scene, 53rd International Art Exhibition, La Biennale di Venezia, Italy (2009).
In 2011 Gerrard was commissioned to produce Live Fire Exercise (in collaboration with Wayne McGregor) which premiered at The Royal Ballet, Royal Opera House, London UK to widespread acclaim.
John Gerrard is represented by Thomas Dane Gallery, London and Simon Preston Gallery, New York. For more information see www.johngerrard.net