Hadrian Pigott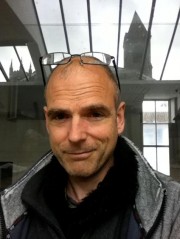 Born in 1961, Hadrian Pigott graduated as a geologist in 1983 and worked on oil rigs for a couple of years before moving on and becoming a COBOL analyst programmer. He eventually studied at the Royal College of Art, graduating with an MA from the sculpture department in 1993.
During the 1990s he worked with the Victoria Miro Gallery, showing extensively, making work that often looked at the excesses of consumer culture. Later work tracked a number of real or imaginary means of escape until, in 2004, he left London to set up home and studio in Penzance, Cornwall.
He was attracted to Penzance by the granite, underlying the whole Penwith peninsula and present in buildings and pavements, sea walls and quaysides.  Since the move from London he has balked at making any art, and has instead been busy with buildings, playing celtic music with friends in pubs (or as The Busk Stop Crew at summer festivals), getting in the sea, and fighting a three year battle to see good regenerative development for the seafront and harbour of Penzance, founding the Penzance Seafront Forum in 2011 in an attempt to bring the fractured community together and give it a place at the urban planning table.  He acknowledges that making art again might seem like a good idea any day now…
He took part in the 2010 Falmouth Convention, and the 2011 Cornwall Workshop, and was then persuaded to assist with bringing the Convention to Penzance.