Andy Holden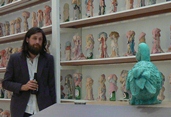 Lives and works in Bedfordshire.
Andy Holden was born in Bedford, UK in 1982. Holden graduated from BA Fine Art at Goldsmith's College in 2005. In 2010 he curated Be Glad For the Song Has No End ~ A Festival of Artists' Music at Wysing Arts Centre, Cambridge, and he co-runs the record label Lost Toys Records, as well as performing regularly with his band The Grubby Mitts.
Recent solo exhibitions include Chewy Cosmos Thingly Time at Kettle's Yard, Cambridge, UK (2011), Cookham Erratics, Benaki Museum, Athens (2011), Art Now: Andy Holden, Tate Britain, UK (2010), The Desert Project, at Works|Projects, Bristol, UK (2009), and The World is Round and Mr Wrigley Makes Chewing Gum, Kunstfort Vijfhuizen, NL (2008). Group exhibitions include Art Now Live, Tate Britain (2011), A Fire in the Master's House is Set, Chapter, Cardiff (2011), I Promise to Love You, Kunsthal Rotterdam (2011), Props, Events and Encounters, The Hub, Athens, and Experimenta Folklore, Frankfurter Kunstverein, Germany (2008).