Andrew Lanyon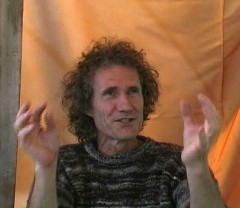 Andrew Lanyon was born and still lives in Cornwall. He studied filmmaking in the late 60s and spent several years as a photographer, presenting a major touring show The Rooks of Trelawne at The Photographers' Gallery in 1976.
He has self-published limited edition letterpress books since 1987, beginning with Deadpan, the first of the Rowley series that still continues. He has also produced larger-run publications such as A Fairy Find (Portobello Books) and Circular Walks Around Rowley Hall (Atlas Press), both 2006. He has written highly acclaimed books on his father, the painter Peter Lanyon, and on Alfred Wallis, as well as on other painters, sculptors, writers and poets.
During the mid 90s, alongside painting, collage and writing, Lanyon returned to filmmaking; the first of his films to be released was Splatt dhe Wertha (Plot for Sale), an award-winning Cornish language film directed by Bill Scott. Other films include Laughing Gas, Badly Parked Car and Fairy Questions Answered.  In 2011 his exhibition Von Ribbentrop in St Ives – Art and War in the Last Resort was presented at Kestle Barton, Peer and Kettles Yard. This densely rich and elaborate narrative project, in both book and exhibition form, comprised paintings, drawings, mechanical vignettes, sculptures, artefacts and texts that draw idiosyncratic parallels between the threatened Nazi invasion of Cornwall and the encroaching dominance of abstraction over realism in modernist art.
Lanyon's work is in private and public collections including the Victoria and Albert Museum, London and Museum of Modern Art, New York.